Dear Friends,
 
No one can get more from a verse of scripture than Charles Spurgeon could.  Reflecting on Psalm 126:3, which says "The LORD has done great things for us; we are glad" Spurgeon observed "Some Christians are sadly prone to look on the dark side of everything, and to dwell more upon what they have gone through than upon what God has done for them. Ask for their impression of the Christian life, and they will describe their continual conflicts, their deep afflictions, their sad adversities, and the sinfulness of their hearts, yet with scarcely any allusion to the mercy and help which God has vouchsafed them."
 
You know people like this.  Maybe this describes you.  Certainly in our world in 2022, there is reason for lament, for sorrow, for our souls to be cast down.  I know some of you are experiencing personal hardships that have set joy seemingly out of reach. 
 
As followers of Jesus, we ought not pretend that hardships aren't real or that there is no room for sorrow in our lives.
 
But God would not have us build a nest in a field of despair.  Spurgeon writes "A Christian whose soul is in a healthy state, will come forward joyously, and say, 'I will speak, not about myself, but to the honor of my God. He hath brought me up out of an horrible pit, and out of the miry clay, and set my feet upon a rock, and established my goings: and He hath put a new song in my mouth, even praise unto our God. The Lord hath done great things for me, whereof I am glad.'"
 
I've shared with you before the quote from Dr. Martin Lloyd-Jones about the need for each of us to counsel our own soul.  We need, according to Lloyd-Jones, to spend less time listening to ourselves and more time speaking to ourselves.  We need to spend more time reminding ourselves of what God declares is true.
 
This is what Spurgeon is telling us to do.  Yes, we can look at the afflictions and sorrows we're facing, which are indeed real.  But we can also choose to life out eyes.  To recall the glorious things our God has done for us in saving us and bringing us into His family. 
 
Spurgeon says "It is true that we endure trials, but it is just as true that we are delivered out of them. It is true that we have our corruptions, and mournfully do we know this, but it is quite as true that we have an all-sufficient Saviour, who overcomes these corruptions, and delivers us from their dominion."
 
"The deeper our troubles," Spurgeon writes, "the louder our thanks to God, who has led us through all, and preserved us until now. Our griefs cannot mar the melody of our praise, we reckon them to be the bass part of our life's song, 'He hath done great things for us, whereof we are glad.'"
 
The Bible tells us we are to set our minds on the things above, not on things on earth (Colossians 3:2).  That doesn't mean that we ignore the realities of life in our world.  But it means that we develop a mindset that puts the pain of this life in an eternal perspective.  It means we learn to look at the struggles of this life, as painful and as real as they might be for us as "light and momentary afflictions" that are producing in us "an eternal weight of glory." 
 
There is a day ahead when the pain of this life will be a distant memory.  We will be so overcome by the glory of God that is to be revealed to us that we will forget the sorrows of this life.  In the meantime, it will do us good not to forget the great things God has done and is doing for each of us, every day. 

Psalm 103 gives us a good place to start that process:

[1] Bless the LORD, O my soul,
and all that is within me,
bless his holy name!
[2] Bless the LORD, O my soul,
and forget not all his benefits,
[3] who forgives all your iniquity
who heals all your diseases,
[4] who redeems your life from the pit,
who crowns you with steadfast love and mercy,
[5] who satisfies you with good so that your youth is renewed like the eagle's. (Psalm 103:1-5)

Forget not the benefits of being in a covenant relationship with the good and gracious God of the Universe, your Creator, who loves you with an everlasting love.  Take Spurgeon's advice.  And make that your meditation today.
  
You know what they say about mail carriers, right?  That "neither rain nor snow nor dark of night will keep the mail carrier from his appointed rounds?"
 
Well, the same is true for Redeemer picnickers.  It takes more than a few drops of rain to shut down our first Parking Lot Picnic of the summer!
 
We just had to make a few adjustments.
 
First, we moved our bounce house into the sanctuary.
 
 
Our food truck was on site and cooking plate after plate of BBQ.
 
 
And we had a full house of families who came out for some food and fun.
 

I even took a dare and got my face painted.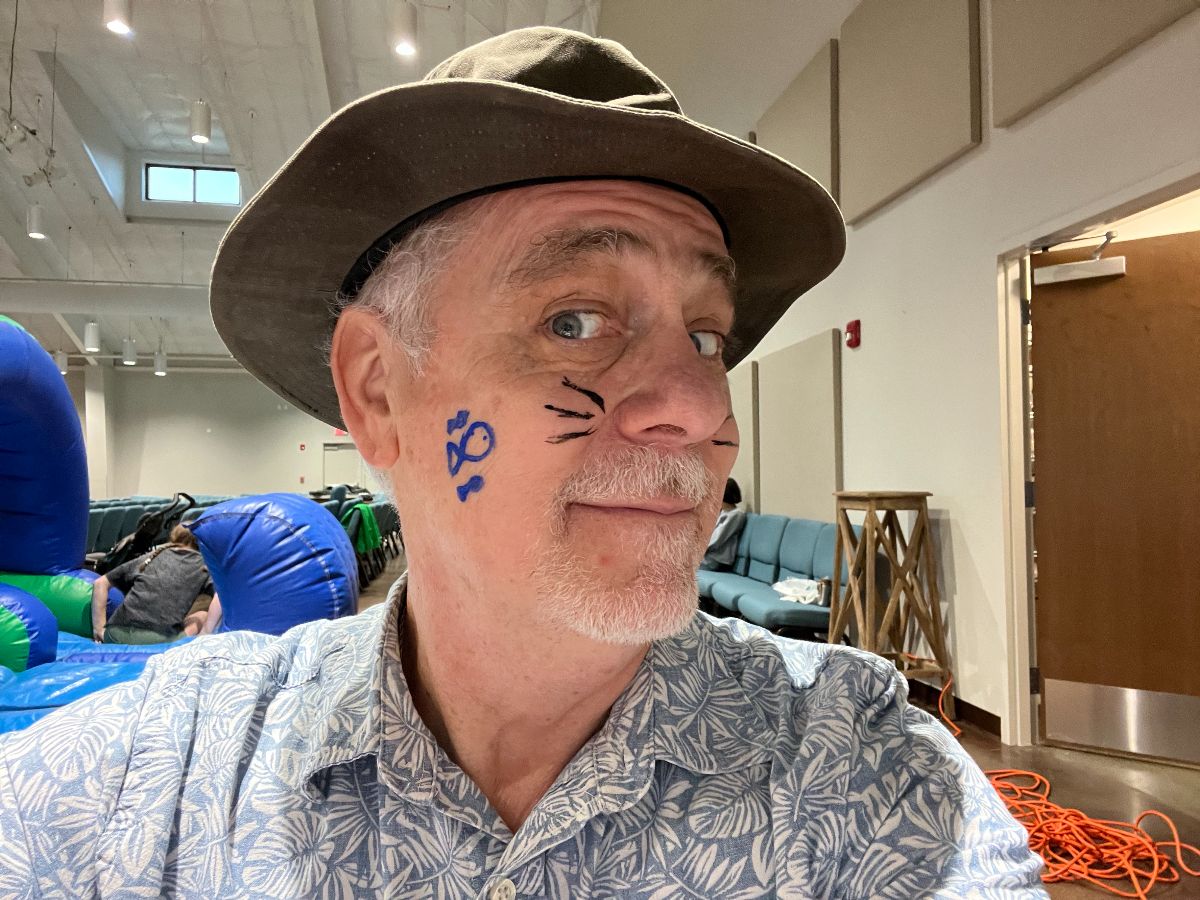 The next parking lot picnic happens on Wednesday night, July 6, starting at 6:30.  Rain or shine.  Put it on your calendar now.  You (and your friends and neighbors) don't want ot miss out on the fun!
  
This Friday morning at 9:45 sharp, our first men's Gun Lap group of the summer will meet at church.. 
 

Even if you don't have a book ordered, come out and enjoy the fellowship with other men.
 
You can expect to get another email or text or phone call from me in the next week.  We're going to need some help in our playground area on Saturday, June 11 (6-8 guys helping dig post holes) and again on Saturday, June 18 (all hands on deck for installing a new fence and assembling a new gazebo).
 
If you're ready to sign up to help out on June 11, email me (bob@boblepine.com) and I'll get back to you with more instructions. 
 
And if you have any spare time in your schedule on Saturday, June 18, plan now to join us for as many hours as you can give, starting at 9:00 am.
 
Many hands make light work.  You can expect to hear from me with a personal invitation to help out.
 
And here's a reminder about the paver stones we are planning to install in the playground area with scripture verses on them.  The stones will look like this: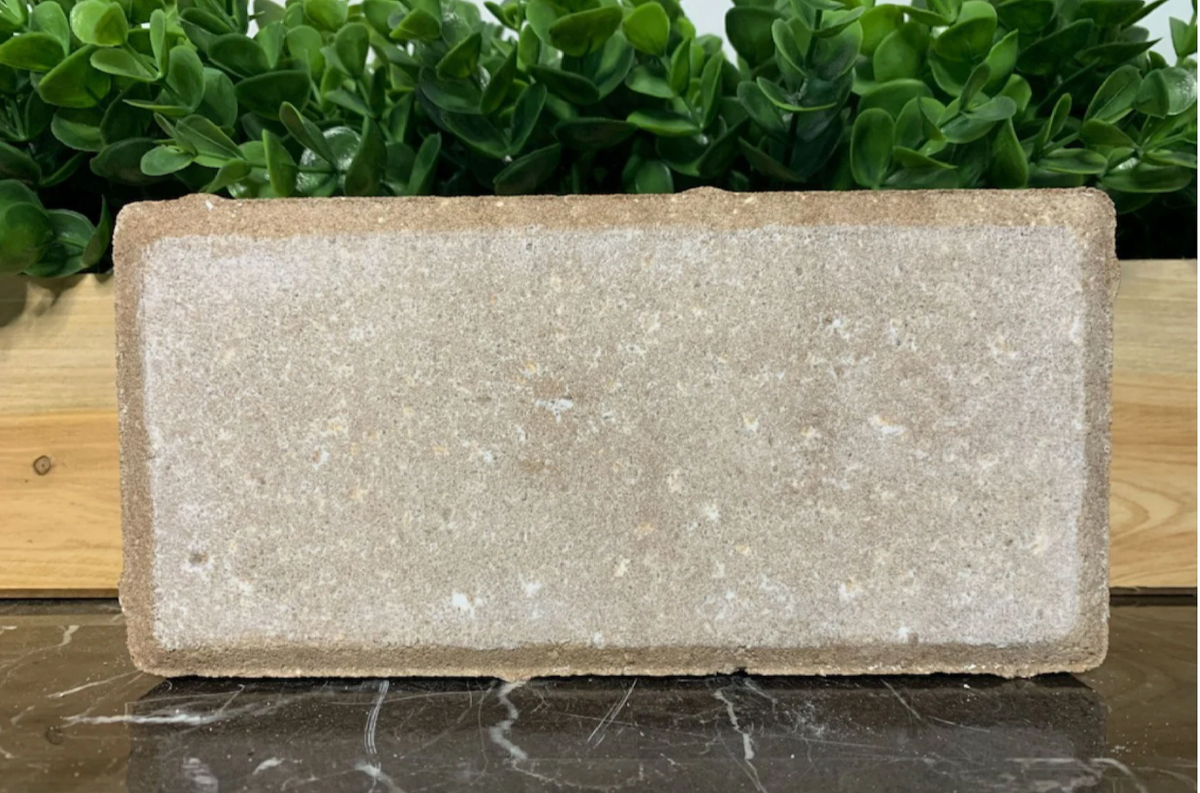 We're hoping that as our children play in the playground through the years, they might begin to learn and even memorize some of these scriptures on the paver stones.
 
Over the next two weeks, we'd love to have you select a scripture of your choice that we can have engraved on the stone.  An engraved stone costs $50.  We're asking you to consider the verse you'd like to have included along the path in the playground area, and then help cover the cost for your stone.  And we've made it super easy for you to select a verse and pay for it by clicking here.  Talk it over, pray about which verse you'd like to have engraved, and then click the link and make it happen! 
 
Our summer Backyard Bible Club is just weeks away.
 

If you're planning for your kids to be included in the fun (along with any neighborhood kids or other friends who want to join them), we need you to click this link to register your kids so we know how many to expect. 
 
And for those of you who would like to invite other kids from outside the church to join us, here's a sample email you can copy, paste and modify as you'd like, and then send along to the parents of those kids:
 
Dear  ,
 
Our church (Redeemer Community Church of Little Rock) is having a weeklong Backyard Bible Club this summer for kids fifth grade and younger.  It's the week of June 27 – July 1, and it's each morning that week from 9:30 – 11:00.  It's going to be all about the Ten Commandments.  I thought maybe your kids would be interested.  And I thought maybe by the end of June, you might be looking for an activity like this to keep your kids busy for an hour and a half in the mornings!
 
The Backyard Bible Club is free, but you do need to enroll your kids.  You can do that by clicking here.  And if you have any questions, let me know and if I don't know the answer, I'll see what I can find out! 
 
Speaking of kids, this Sunday is a Gospel Zone Sunday.
---
If someone asked you "what exactly is the gospel" would you know how to respond? This Sunday we'll think together about how we can be ready with an answer to that question whenever the opportunity to share the gospel presents itself.

See you in church.

Soli Deo Gloria!
Pastor Bob