Dear Friends,
 
My wife and I have found ourselves pretty regularly reminding ourselves in recent years that most of the problems we face are first world problems.
 
You know the kinds of things I'm talking about, right?
 
The package from Amazon doesn't arrive on time, as promised.
 
The movie you're trying to stream keeps buffering.
 
The service at the restaurant was so slow!
 
You had to go to a second grocery store to get your extra crunchy peanut butter because the first store was out.
 
Think about the last time you found yourself annoyed or complaining about some relatively minor inconvenience.  It was likely a first world problem, wasn't it?
 
This week, Matt and Cole and I are in Toronto at a conference for pastors.  The conference is hosted by the Great Commission Collective, a church planting network that Redeemer supports and is part of.  The three of us spent our first 24 hours here going through a workshop on preaching, where we looked eight passages from the book of Acts and spent time talking about how we would present these passages in a sermon. 
 
The workshop was put on for us by The Simeon Trust, and each of us agreed the workshop was helpful.  The leaders provided us with a helpful system and exegetical tools for getting to what is at the heart of any passage of scripture. 
 
While our focus was on sharpening our skills as Bible expositors, I was struck by a theme that permeated every passage we looked at.  The big idea in Book of Acts is how the church grew throughout the western world in the first century AD.  And if you try to boil it all down to one key idea about what fueled the expansion of Christianity in the years following the crucifixion of Jesus, here's what I think you'll find.
 
What drove the exponential growth of the church was persecution.  Adversity.  Big time. 
 
You see it on every page of the book.  The disciples are told to quit preaching about Jesus or else face jail time.   They respond by praying for boldness.  They are arrested, and then freed.  And as soon as they were out of prison, they went back to preaching and teaching about Jesus.  Stephen is seized and put to death by stoning.   An Ethiopian Eunuch is baptized.  Saul sets off to arrest and jail believers in Damascus, and is converted himself.
 
I could go on, but you see the point.  The book is full of Christians being jailed, beaten and executed.  And with each act, their boldness grows.  They are undeterred.  And more people get saved.
 
The Apostle Paul talks about his own experiences of suffering and persecution.  He calls what he experienced "light and momentary afflictions."  He sees it as a privilege to suffer for the sake of Jesus.
 
No one likes to suffer.  But as I read through the Book of Acts this week, I found myself wondering what the first disciples would think of our complaints about the minor inconveniences I listed above.  I wondered what they would think about ideas like microaggressions, safe spaces, words as weapons, or "silence is violence." 
 
I also found myself wondering how little it takes in our day for any of us to back down from boldness when it comes to proclaiming the gospel or speaking up about Jesus. 
 
We don't want to offend others, and we ought to be careful not to be unnecessarily provocative.  But I think we have a lot we can learn from our brothers and sisters in the Book of Acts about what boldness and courage in the face of genuine persecution should look like.
 
Take a few minutes and read Acts 12 today.  It tells about the death of the Apostle James at the hands of King Herod.  Peter was also arrested and sentenced to death before he was miraculously delivered from prison by an angel sent from God. 
 
Before the chapter ends, we see God bring swift judgment on Herod, who is struck dead while giving a speech in Caesarea.  Luke says Herod "was eaten by worms and breathed his last." 
 
And the next thing Luke tells us is "but the word of God increased and multiplied" (Acts 12:24).
 
Here's hoping we might see the word of God increase and multiply in our day.   And that if real persecution should come our way, here's hoping we'll have the grace and courage to respond as the first disciples did, with boldness and without backing down.   


 

 
 
Just for fun, I thought you might want to see Matt and Cole and me getting a quick look at Niagara Falls during our free evening in Canada. 

 
 

At night, the falls are lit – red, white and blue.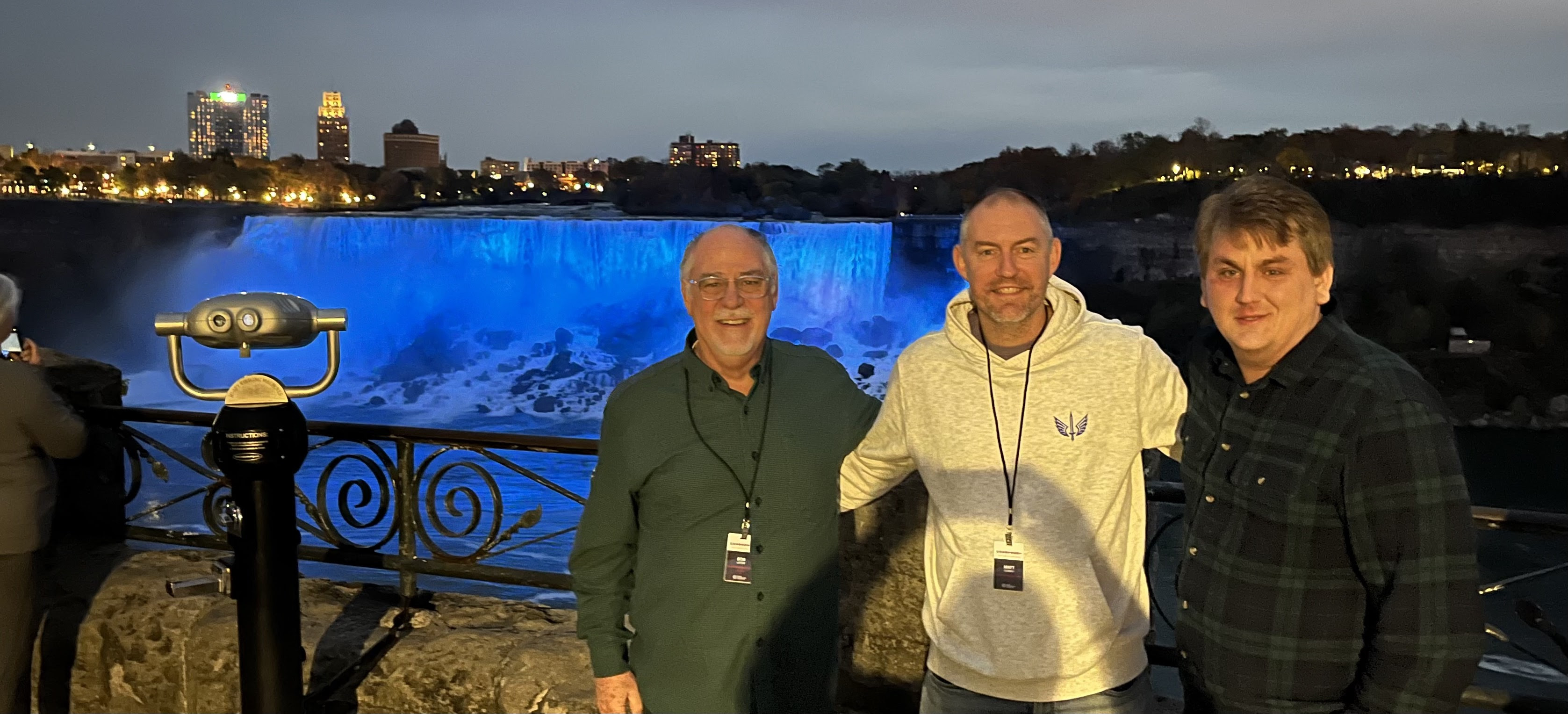 Last weekend's women's retreat was filled with fellowship, food, fun and friendships forming (how's that for alliteration!).  Here's a look at what was, by all accounts, a great getaway.

 
 
 


 
It's time for some Trunk or Treat fun!  This Saturday night, starting at 6:00, bring the kids, the neighbor kids and anyone else you know for our annual Trunk or Treat event.  We'll have fun and games, lots of candy (thank you) and an opportunity to meet and show love to our neighbors along David O Dodd.
 
 
 
  


 
You get this email each week.  You think of Redeemer as your church home.  So how come you're not listed in the online church directory? 
 
The directory is our source for connecting with one another all through the week.  So even if you're not yet an official church member, you're still welcome to list yourself and your family in the directory.  Here's info on how you can get connected.   

 
  



 
Guys –
 
Next Tuesday is Reformation Day.  Or Halloween.  You can take your pick.
 
The Wednesday after that is out November Men's First Tuesday meeting.  You're planning to be there, right?

 
 
 

 
 
And parents – don't forget the next Student Ministries Game Night is a little more than a week away.

 
  
 

   

What happens if you don't keep alert and stay on guard against false teachers?  What can you expect the outcome will be if you decide to follow them?  Jude answers those questions for us this Sunday.
 
 
 
 

See you in church.
 
Soli Deo Gloria!
Pastor Bob