Dear Friends,

Tonight was a big night for us at Redeemer. Twenty-seven kids were loved on, poured into and prayed for as we kicked off our very first evening of Awana.

There were fun and games.


There were group times where they learned about the verses they will be memorizing.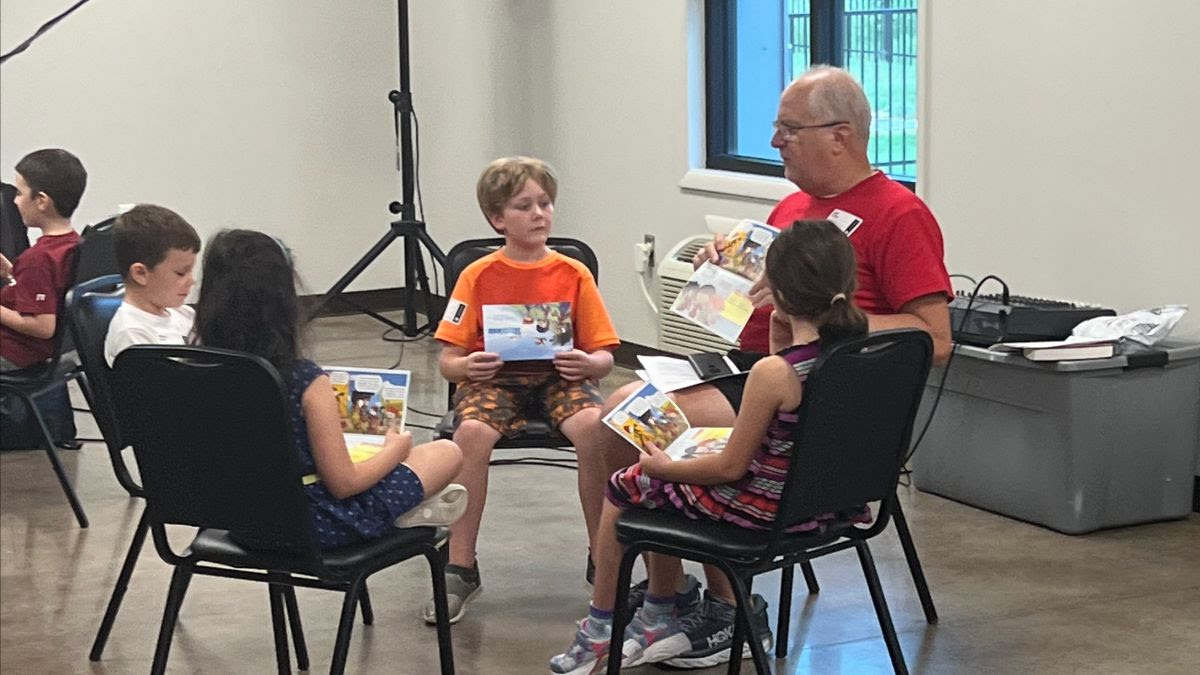 By the end of the evening, everyone headed hope excited about what God has planned for these precious children this year. And maybe, Lord willing, more like them in the weeks ahead.

I think what happened tonight, and what will happen in the weeks ahead is some of the most important and significant ministry that is happening at Redeemer.

I remember reading an article by a former Seminary prof who said if he had to choose between the value of his own seminary education and his experience with children's ministry growing up, he'd choose the foundation that was poured in his life over his higher education:

This professor wrote "I believe so strongly in seminary education, and gave most of my ministry to it. I'd never want to give that up. But as important as theological education was for me, Sunday school was more so… My teachers weren't theologically trained, and probably not one of them could have explained the hypostatic union or the Pauline doctrine of election. They also weren't pedagogically equipped. Some just had us go around the room taking turns reading, monotone, from the curriculum shipped from the denominational publishing house… And yet, Sunday school transformed my life. What I needed was the slow repetition, over years and years, of the Word of God."

He's right. What's happening on Wednesday nights – and during our Gospel Zone times on Sunday mornings – is vital. It's planting seeds, fertilizing and watering them, and trusting God for the increase.

Thanks to all of you who are helping make it happen.
____________________

You know that survey I told you about? The one where you said to yourself "oh yeah, I need to do that…"

Yeah, you do. Time is running out. You have until this Sunday to complete the survey.

Sixty-eight of you have started the survey. Forty-five of you have finished it. That means lots of you haven't clicked the link yet.

So we're down to the deadline. Do it today. Here's the link. Click here and get 'er done!
____________________
Our first First Tuesday men's meetings of the fall happened last night. We had a great time with Dr. Robert Lewis, the former pastor at Fellowship Bible Church and the founder of Men's Fraternity.

If you weren't able to attend, plan to join us on Tuesday, September 27 for our next meeting, with our guest, Dr. Crawford Loritts.

And if that's not enough to get the date logged into your calendar, here's the bonus. Andy Stallings has offered to make a big mess of shrimp and chicken and sausage etouffee for our dinner that evening!

Plan to be there!
____________________
Here's what ahead for the ladies this morning. First, there is a Fall Women's Gathering happening on Monday, September 12. Click here to register so we can know how many to expect that evening.


Then, the Fall Women's Bible Study in the book of Proverbs will start on Monday night, September 19.


And the Fall Women's Retreat happens in October.



Any questions about any of these activities, see Jen Gurney.
____________________
Small Groups will be starting up the week after next. If you're not currently in a small group, you're welcome to visit any of our five groups. Or talk to Pastor Matt for more info on our small group ministry and where you might be able to fit in.

Here's the small group line up for this fall.

____________________
Game Night for Students happens this Friday. Contact Pastor Matt if you need more info.


_________
On Sunday afternoon, September 18, we'll be gathering as a church to witness several people, young and old in our church, who have told us they would like to make a public declaration of their faith in Christ by being baptized. We'll be gathering at 4:00 at a pool here in town for a potluck, swim party and baptism celebration all rolled into one big event.

If, since becoming a follower of Christ, you have not been baptized, let me urge you to do so. Contact Pastor Matt with any questions you have or to let him know you're interested.

____________________
Finally, don't forget that this weekend, we'll have Cole and Hannah Perkins visiting with us as we are together exploring whether God might be leading them to Little Rock to be part of our staff and our church family. We're discussing having Cole serve at Redeemer, overseeing student discipleship along with other ministry responsibilities. Cole will be preaching for us on Sunday morning. He'll be reviewing Philippians 3 with us, where the Apostle Paul recounts his own spiritual journey and shares about how he rejected his religious heritage after having an extraordinary encounter with the resurrected Christ. He shows how in the end, Jesus was at the center of his righteousness, his future resurrection, and the race in between.

See you in church.

Soli Deo Gloria!
Pastor Bob