Dear Friends,
 
For more than three decades, I've had this art print hanging in my office.  
 

The painting is called Light In the Forest.  The artist painted this when she was still a teenager.  She had recently broken her neck in a diving accident in the Chesapeake Bay in Maryland. She was in a wheelchair when she painted the picture.  She was (and still is today) a quadriplegic.  The artist's name is Joni Erickson Tada.
 
I don't think I've ever met anyone quite like her.
 
This week, Joni shared with a group of us about a recent episode when the chronic pain she lives with was flaring up.  Her wheelchair was locked into the van, she said. Her husband was driving.  And they were on the 101 Freeway in Southern California, driving from their home in Calabasas to her office in Agoura Hills. This morning, the pain was particularly intense.      
 
"I was about to say to my husband 'Sweetheart, please, I cannot do this.  Take the next exit.  Let's go home.  Put me back to bed.  I cannot handle this pain.'  But just as I began to cave in emotionally (and we've all been there), God brought to mind Psalm 119:50.   You probably know it well:
 
'My comfort in suffering is this – (okay, it's this. Here it is),
Your promises renew my life.'"
 
Joni went on to explain to us how, as she continued to tremble with pain, she started saying out loud every promise from the Bible she could think of.  And how she eventually began to sing the hymns she knows that recite God's promises. 
 
By the time Joni and her husband arrived at their ministry headquarters in Agoura Hills, she told us, she was still in pain.  But she now had courage.  The courage that God was with her, even in her pain.
 
I'm guessing most of you are like me.  When you're in pain – physical or emotional pain – I'm guessing that your first impulse is not to recite God's promises or to sing hymns. That is not a natural response to pain. It's a supernatural response. It's a Spirit generated response. 
 
Some might say that Joni was in denial.  She would disagree.  The pain was real.  She wasn't denying that at all.  She was choosing to set her mind on things above.  To find the courage to face the pain in Jesus.
 
Are there promises from God that you need to say out loud right now, in the midst of the pain you may be facing in your life? I'll give you a handful of promises you can re-believe right now.
 
"When the righteous cry for help, the Lord hears and delivers them out of all their troubles. The Lord is near to the brokenhearted and saves the crushed in spirit. Many are the afflictions of the righteous, but the Lord delivers him out of them all." (Psalm 34:17-19)
 
"He heals the brokenhearted and binds up their wounds." (Psalm 147:3)
 
"Cast your burden on the Lord, and he will sustain you; he will never permit the righteous to be moved." (Psalm 55:22)
 
"Fear not, for I am with you; be not dismayed, for I am your God; I will strengthen you, I will help you, I will uphold you with my righteous right hand." (Isa. 41:10)
 
"I will lead the blind in a way that they do not know, in paths that they have not known I will guide them. I will turn the darkness before them into light, the rough places into level ground. These are the things I do, and I do not forsake them." (Isaiah 42:16)
 
"Come to me, all who labor and are heavy laden, and I will give you rest." (Matthew 11:28)
 
"We are afflicted in every way, but not crushed; perplexed, but not driven to despair; persecuted, but not forsaken; struck down, but not destroyed." (2 Corinthians 4:8-9)
 
One last verse.  It's one of the verses Joni focused on in the midst of her pain.
 
"Have I not commanded you?  Be strong and very courageous.  Do not be terrified.  Do not be discouraged.  For the Lord your God will be with you wherever you may go." (Joshua 1:9)
 
Pain in life is real.  But so are the promises of God.  Cling to them when trials come.
 
 
This Saturday is Family Fun Night!
 
  
Email Jen Gurney with any questions you have about the event.  Her email is jengiles1@yahoo.com.  
 
 
There's a new baby girl in the Walker home!  
 
   
And here's a upcoming special event for the women in our church: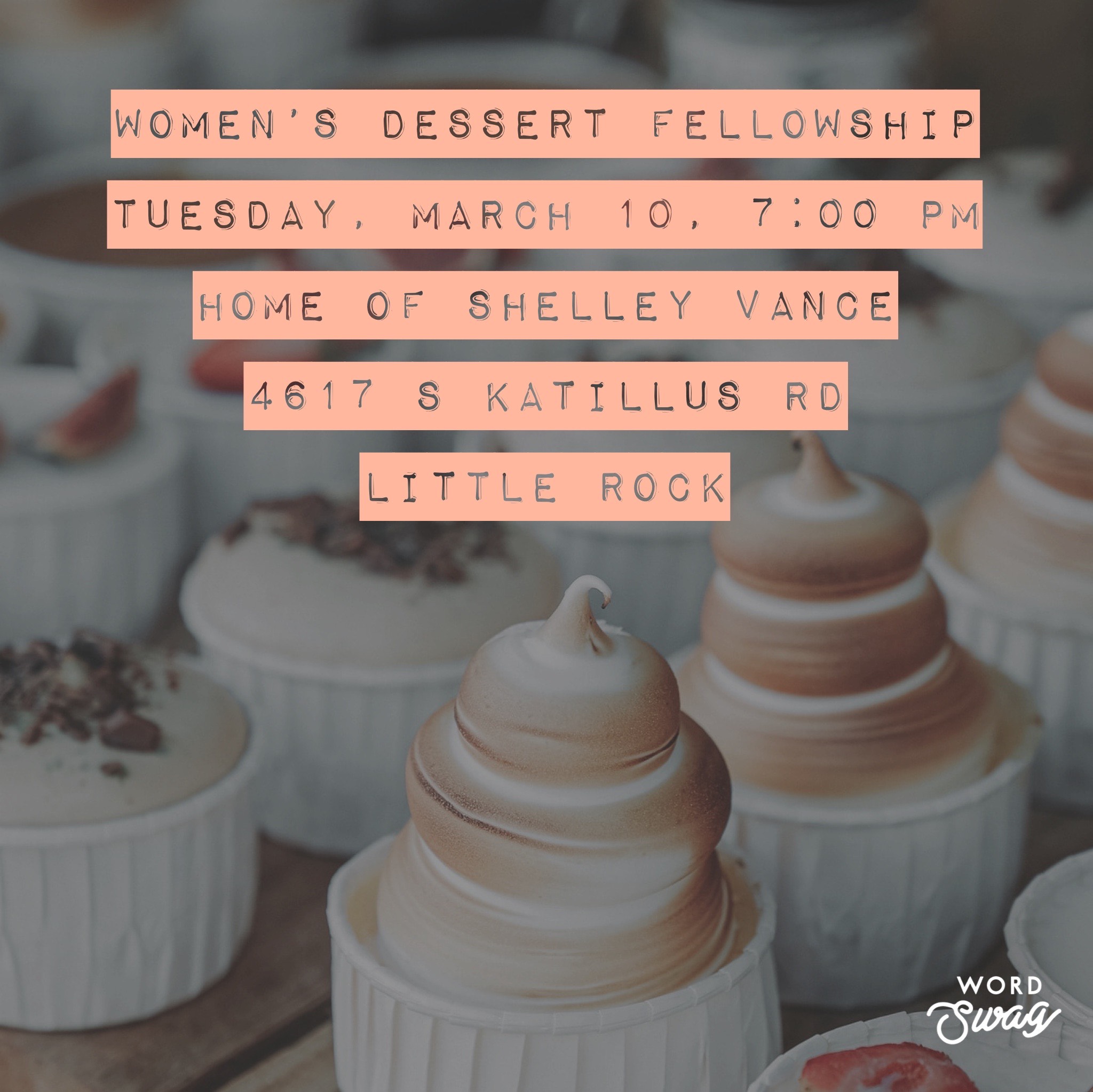 There's a potluck in your future.  Along with our annual church business meeting:
 
 
   
 Guys, here's more info on the upcoming men's retreat in March.  Time to reserve your spot!
 
  
 
We've spent the past seven weeks considering the character qualities Peter tells us we are to cultivate to supplement our faith. But do we have to?  Is it okay for us to set that list aside and simply coast our way to the finish line and end up in heaven?
 
How would you answer that question?  We'll consider it this Sunday.
 
 See you in church! 
 
Soli Deo Gloria!
Pastor Bob